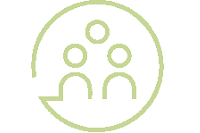 group details
Creative Connections - with Susannah McGeachy, NP-PHC, and Dr. Anita Shack, DC
A biweekly opportunity to connect with other artists of all disciplines in a safe, facilitated discussion space.
Share experiences, triumphs and challenges through discussion of a weekly theme
Exchange resources
Build community connections
Artists and arts workers of all disciplines welcome!
You MUST be registered as patient of the Artists' Health Centre to join.
FORMAT: Offered virtually via Microsoft TEAMS
FEE: No cost
Preregistration required - first come, first serve. Sign up for one session or several – depending on your availability.
A Microsoft TEAMS link will be sent to you in a reminder email.
We look forward to connecting with you!
Details


Online registration - select a group from the list below
Upcoming groups:
| | | | | | | | | |
| --- | --- | --- | --- | --- | --- | --- | --- | --- |
| Thu | 25 Aug | 2:30pm - 4:00pm | Connecting in the Virtual World | * Virtual Mtg * | | | | 11 places available |
| Thu | 8 Sep | 2:30pm - 4:00pm | Physical Spaces | * Virtual Mtg * | | | | Sorry - this group is now fully booked |
| Thu | 22 Sep | 2:30pm - 4:00pm | Fostering Creativity | * Virtual Mtg * | | | | Sorry - this group is now fully booked |
| Thu | 6 Oct | 2:30pm - 4:00pm | Risks | * Virtual Mtg * | | | | Sorry - this group is now fully booked |
| Thu | 20 Oct | 2:30pm - 4:00pm | "Selling" Yourself - Marketing and Self-Esteem | * Virtual Mtg * | | | | Sorry - this group is now fully booked |
| Thu | 3 Nov | 2:30pm - 4:00pm | Community and Connection | * Virtual Mtg * | | | | Sorry - this group is now fully booked |
| Thu | 17 Nov | 2:30pm - 4:00pm | | * Virtual Mtg * | | | | 20 places available |