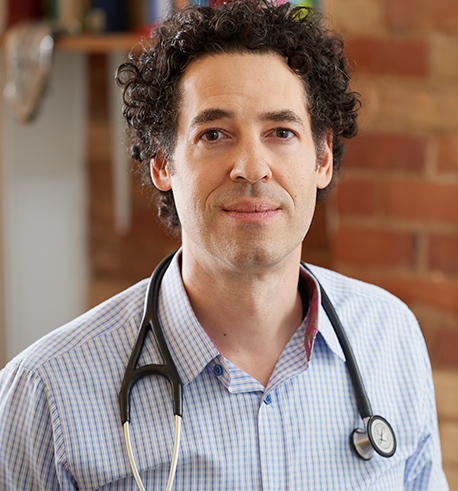 Dr. Jean-Jacques Dugoua, or Dr. JJ as he is affectionately known, is a licensed naturopathic doctor (ND) since 2003 and the first ND to practice naturopathic medicine at the Toronto Western Hospital (TWH) Artists' Health Centre (AHC). Dr. JJ completed his PhD in Pharmaceutical Sciences at the University of Toronto in 2011.
Dr. JJ's areas of clinical interest include: stress and anxiety, infections, skin conditions, hair conditions, digestive issues, gastrointestinal conditions, thyroid conditions and fertility support.
At the AHC, Dr. JJ uses a melange of naturopathic principals, including clinical nutrition, nutritional supplementation, herbal medicines, counselling and acupuncture. As a ND in Ontario, he prescribes desiccated thyroid and bio-identical hormone replacement therapy (BHRT) where appropriate.
Dr. JJ has given a number of workshops throughout Ontario specifically focused on artists and their health care, as well as presentations internationally, including the World Health Organization in Washington DC.
As part of his PhD research, Dr. JJ investigated the safety of natural products during pregnancy and lactation at the Sick Kids Hospital and conducted a clinical trial on the effects of cinnamon on type 2 diabetes at the Toronto Western Hospital and the Centre Universitaire de Sherbrooke.
He was an Associate Professor (Status Only) at the University of Toronto Leslie Dan Faculty of Pharmacy.
He is the Chief Medical Officer of Liberty Clinic in Downtown Toronto.